FREE Bodybuilding Workouts
Learn How To Skyrocket Your Muscle Building Gains
And Take Your Physique To The Next Level!
Enter your first name and a valid email address
for free instant access to the amazing workout programs.

Pumping Iron Movie
Pumping Iron DVD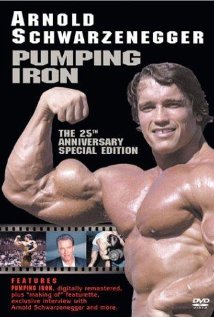 Pumping Iron DVD, buy the Pumping Iron 25th anniversary movie staring Arnold Sschwarzenegger, Lou Ferrigno, Mike Katz, Franco Columbu, Ed Corney, Ken Waller, Serge Nubret, Robbie Robinson, Frank Zane, Eddie Juliani, Danny Padilla, Roger Callard, Paul Grant and more!
Pumping Iron is a 1977 docudrama about bodybuilding, focusing the competition between Arnold Schwarzenegger and Lou Ferrigno for the 1975 Mr. Olympia crown. Follow all the action from Arnold training at Gold's Gym in California, Lou Ferrigno training in Brooklyn, NY to their showdown in Pretoria, South Africa. It also covers the 1975 Mr. Universe contest with Mike Katz and Ken Waller competing for the title.
Pumping Iron is the greatest bodybuilding documentary of all time!
New Pumping Iron 25th anniversary DVD Bonus Material:
Features more then 84 minutes of new, never-before-released programing, including:
Iron and Beyond - new featurette looking at the impact of the film
Raw Iron - The making of the film including outtakes
New interview with Arnold Schwarzenegger
Video bio of Arnold Schwarzenegger
Full-screen format
Get your own copy today for only $29.95 plus $8.00 S&H
Or to order by phone call:
800-635-8970
10 AM to 6 PM PST