FREE Bodybuilding Workouts
Learn How To Skyrocket Your Muscle Building Gains
And Take Your Physique To The Next Level!
Enter your first name and a valid email address
for free instant access to the amazing workout programs.

Mike Mentzer Workout
Mike Mentzer HIT DVD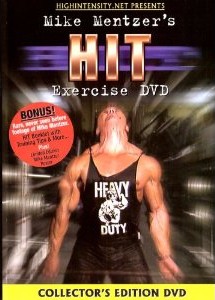 Mike Mentzer workout, when you get the Mike Mentzer HIT DVD it's like having Mike as your own personal trainer. Mike explains the most important points of proper HIT exercise techniques, new insights on training theory and it's proper practical applications and of course the full workout routines themselves. Mike's training secrets will enhance your workouts effectiveness and will help you to reach higher levels of muscular development in less time then you ever thought possible.
To get you motivated for your workout, the DVD starts with Mike Mentzer posing in 1978 after the same year he won the Mr. Universe contest.
Then it's right to the gym with Mike training Markus Reinhardt. Mike explains how most bodybuilders do almost everything wrong, and then shows you the right way to build muscle faster then you ever thought possible. You will be personally guided by Mike through all the different body part workouts:
Workout 1 Chest and Back.
Workout 2 Legs.
Workout 3 Shoulders, Biceps and Triceps.
Also includes exclusive behind the scenes footage of the making of Mike Mentzer's workout video. In this exclusive footage you will see Mike and his bother Ray Mentzer in interviews, funny moments, and hear then talk about such celebrities as Frank Zane, Dorian Yates and Joe Weider.
Order your copy of the Mike Mentzer Workout DVD today and finally build the physique you've always wanted!
Now only 29.95 plus $8.00 S&H
Or to order by phone call:
800-635-8970
10 AM to 6 PM PST