FREE Bodybuilding Workouts
Learn How To Skyrocket Your Muscle Building Gains
And Take Your Physique To The Next Level!
Enter your first name and a valid email address
for free instant access to the amazing workout programs.

Arnold Schwarzenegger The Comeback
Arnold The Comeback DVD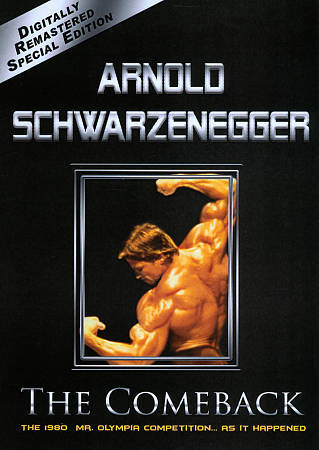 Arnold Schwarzenegger The Comeback DVD, also known as Schwarzenegger Total Rebuild, this sequel to Pumping Iron focuses on the controversial 1980 Mr. Olympia.
In one of the greatest comebacks of all time, ARNOLD SCHWARZENEGGER returns to the world bodybuilding arena after five years away as a Hollywood movie star.
See how the multi-million dollar film superstar and 6 times Mr. Olympia, Arnold Schwarzenegger makes his comeback to the world bodybuilding stage at the Sydney Opera House in an attempt to win the title for a 7th time.
Normally bodybuilders spend years preparing for this ultimate competition - the Mr. Olympia. Can Arnold prepare in only 8 weeks when the other competitors have taken years to get ready for the greatest competition ever?
This is the story of one of the greatest comebacks of all time. Also starring with Arnold are Tom Platz plus appearances by a number of the Mr. Olympia contenders - Frank Zane, Boyer Coe, Dennis Tinerino, Mike Mentzer, Chris Dickerson, Samir Bannout, Roy Callendar and Roger Walker.
Includes scenes of Arnold training in the gym in Sydney, plus contest pump room scenes, interviews, and contest posing by some of the other competitors.
See the complete posing routines of Arnold, Platz and Zane, plus the incredible posedown.
BONUS MATERIAL: 10 minutes of rare early footage of Arnold working out at age 19.
This a rare, hard to find bodybuilding DVD. We only have a few copies let in stock so grab your copy today before they are all gone!
Currently Sold Out